Women in logistics
Professional woman driver with a passion
Shortage of skilled workers – a concerning phrase for logistics companies, because there is a lack of qualified junior staff. As the first prospective female professional driver at the Kaufungen branch, Michelle Grodzki proves that the profession can be an exciting one for women as well.
There are around 480,000 professional drivers in Germany, yet just three per cent of them are women.[1] Michelle Grodzki, 21, is one of the 14,400 female professional drivers. She began her training as a freight forwarding specialist at Nagel-Group in Kaufungen in August 2019, and today she is an aspiring professional driver with a passion!
Michelle: "Quite simply, I find driving fun"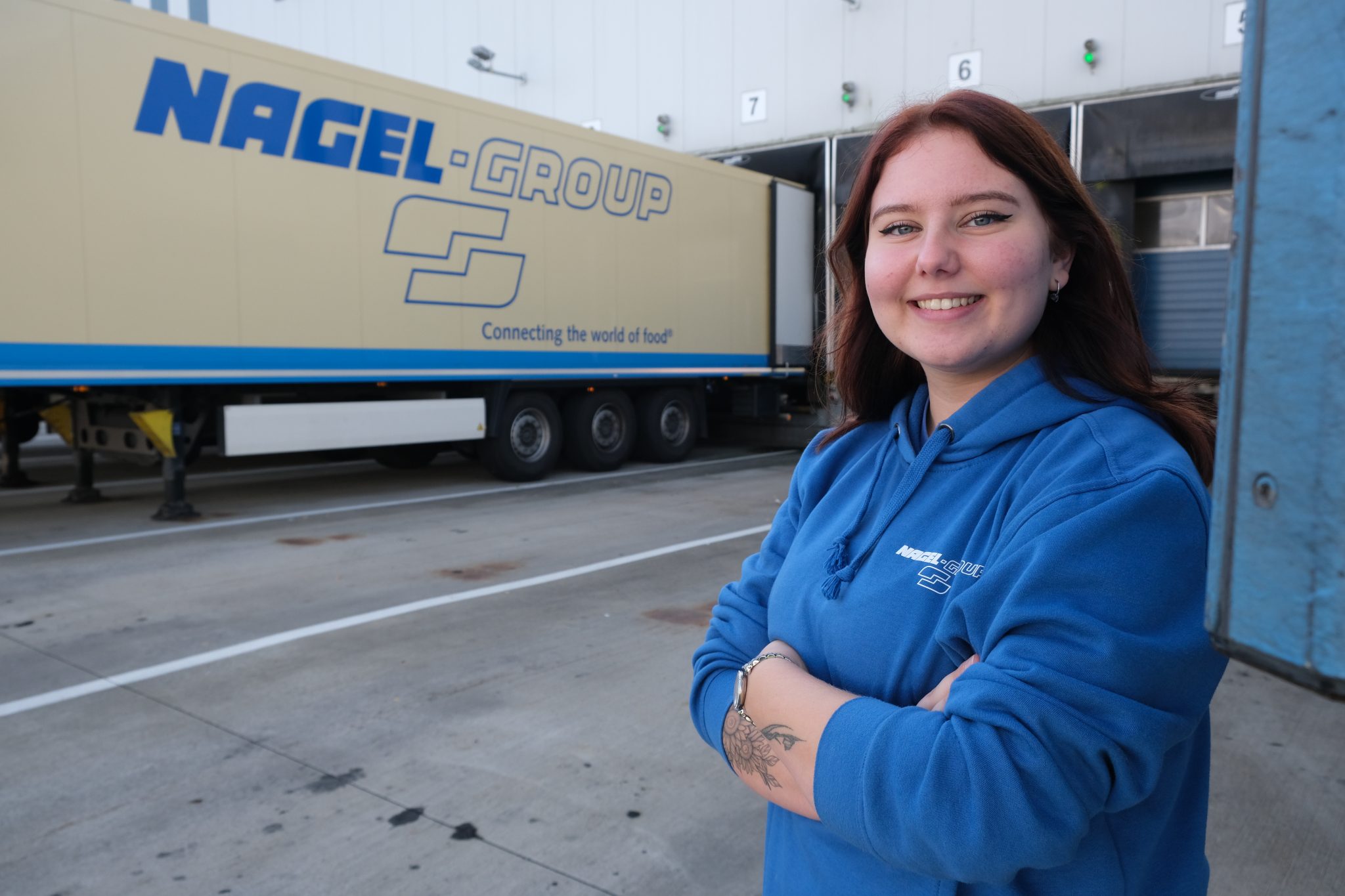 Michelle is also known to her colleagues as "our star driver". Because she loves being on the road. Michelle has already completed her vocational training as a commercial operative in forwarding and logistics services at Nagel-Group in Kaufungen. "While sat behind my desk, I kept looking outside and picturing myself behind the wheel of a new MAN 40 tonne truck," says Michelle with enthusiasm. After her apprenticeship, she quickly decided for another profession. She is part way through her training as a professional driver, but in just one year she will finally be able to fulfil her dream and go on the road solo in a MAN truck.
The 21-year-old has a varied daily work routine: Michelle works in local transport, so she is back home with her family every evening. Every day, she drives through new places that she did not know before and appreciates the contact she has with the customers. She has a lot of responsibility as a professional driver. Her personal contact forms the link between Nagel-Group and its customers.
"I like to be on the road – I see different places all the time and meet lots of new people," says Michelle, who grew up in a family steeped in freight forwarding. "My father is a professional driver and my mother also works in dispatch. So I have always felt at home in a freight forwarding company."
A fashion-conscious woman in a male domain
Michelle confirms that her profession is dominated by men – she feels this every day: "At the moment, work clothes are mostly tailored for men, which can be uncomfortable for us women." In her opinion, not enough women are aspiring to become professional drivers, due in no small part to this reputation of being a male domain. But the work is just as interesting for women, says Michelle: "I also thoroughly recommend a career in logistics to other women, because the profession is very varied and, contrary to what many believe, also family-friendly." Working in local transport is also a good choice if you want to start a family, because male and female drivers alike get to spend the evening with their family. Michelle aims to continue her work in the truck as long as possible, but if this should change, she could well imagine moving back to the office.
Is there anything about her job that she doesn't like? "Sometimes it's really chaotic on the roads," she laughs – but for all that, she says, it's never boring. In the end, keeping her wits about her and a cool head, she has reached every destination so far.
Career as a female professional driver 
Michelle is excited about her future with Nagel-Group and intends to take advantage of every training opportunity that comes her way to further her career.  Michelle brings with her an abundance of the most important quality for the job – passion – which makes her a true asset for Nagel-Group.
[1] Source: https://www.destatis.de/DE/Presse/Pressemitteilungen/2022/05/PD22_N023_13.html