Regional structure: Mirko Schmidt starts as Regional Manager South-East 
The Nagel-Group continues to expand its regionalization concept for Germany. Three regions have already been staffed with a regional manager. After the introduction of Achim Sinn (North-East region) and Martin Nether (South-West region), Mirko Schmidt follows, who took over the South-East region on 01.08.2023.
Please tell us something about yourself:
I am 55 years old, married, have three sons (19, 17 and 11 years) as well as a daughter (4 years) and am a native of Lueneburg, Lower Saxony. After my A-levels and a bank apprenticeship in the Hamburg area, I started a military career as a logistics and transport officer in the early 90s, including studies in economics and organizational sciences at the University of the German Armed Forces in Munich with stations in Lower Saxony, Bavaria, Mecklenburg-Western Pomerania, Saxony, Baden-Wuerttemberg, as well as in France, USA and Bosnia.
After finishing my military service in 2004, I continued my professional career in logistics with positions as branch manager for Panopa Logistik in Duisburg and Hambach (France) in automotive logistics, as regional manager south in the courier / express / parcel industry for Hermes Germany in Munich and later for GLS in Nuremberg, as CEO for a medium-sized forwarding and logistics company in the food – and building materials industry in Herzogenaurach and finally as COO for a food online delivery service in Berlin in the private equity and eCommerce environment.
Why did you decide to join the Nagel-Group as regional manager? What connection do you have with the South-East region?
The Nagel-Group convinced me because of its positive development and long-term strategic orientation, which is why I consciously chose it. I feel very comfortable in a dynamic environment and am convinced that I can make a positive contribution to the ongoing transformation process. I have been based in the Nuremberg area with my family for seven years now and have already spent the last 15 years working in the Bavarian region, so there is already a lot that connects me with the south-east region. Last but not least, my wife and daughter were born in the "Franconian" region.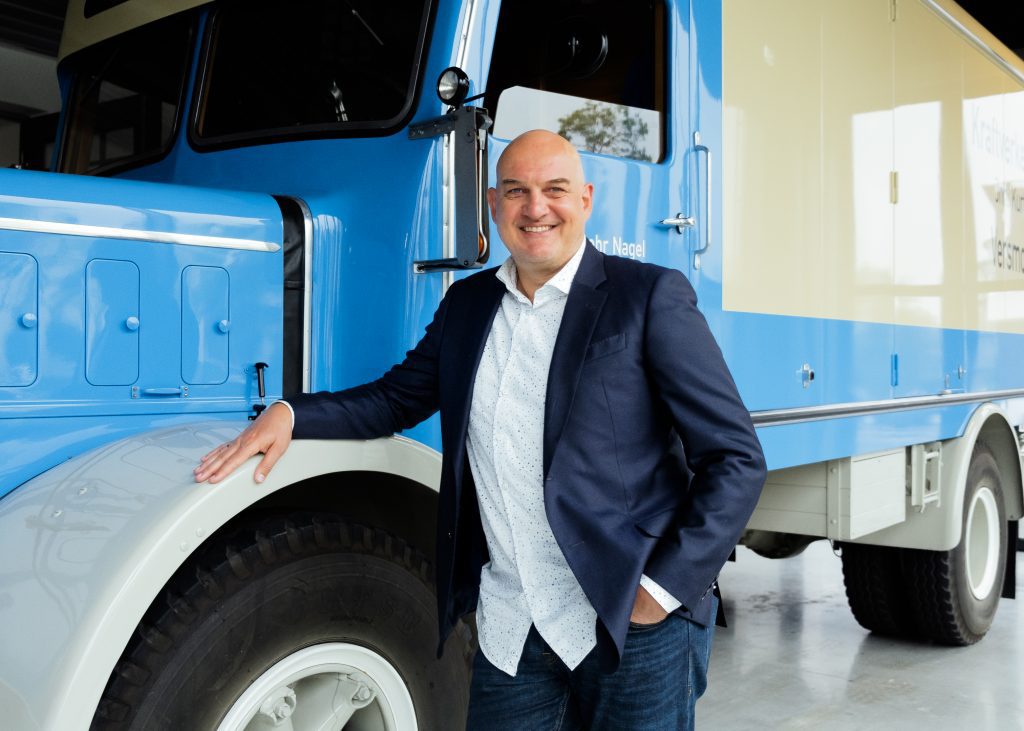 Which tasks or challenges do you want to address first in your new position?
My career to date has been characterized by logistical issues and management tasks, with people always being at the center of my attention. That's why I want to use the initial period to get to know my colleagues in the region, to understand the processes and procedures at the branches and to familiarize myself with the locations, conditions and structures on site. To do this, I will spend a lot of time in the region and, above all, listen to my colleagues on site and learn from them.
What do you place particular emphasis on when it comes to leadership?
I have always understood leadership as a privilege that comes with great responsibility. As a leader, I want to keep in mind the needs and goals of the colleagues for whom I am responsible. I am willing to advocate for my employees and help them reach their full potential. I want to be not only a supervisor, but also a mentor and supporter. In this way, I want to create a positive work atmosphere and encourage commitment and productivity, thus achieving goals together.
In addition, trust plays an essential role in leadership for me. By being honest, transparent and reliable, I create an atmosphere of trust. Only when people trust will they develop their full potential. I also believe it is important to strengthen trust in one's own abilities and to encourage people to take responsibility and act independently.
How do you spend your free time? Do you have any hobbies that you pursue or clubs in which you are active?
I prefer to spend my free time with my family and good friends. Two of my sons play American football for the Nuremberg Rams and my oldest is a musician, so I am one of their biggest fans. If my remaining free time allows it, I then pursue a hobby, which can essentially be described as "improvisational theater with action elements."
Beschreiben Sie in einem prägnanten Satz, wofür Sie stehen bzw. was Sie ausmacht.
A quote from Jay Danzie comes to mind: "Your smile is your logo, your personality is your business card, and the way you make others feel is your trademark."
Translated in slightly different words, "My smile is my logo, my personality is my business card, and the way I make others feel around me is my trademark."