Bürger GmbH & Co. KG und Nagel-Group bauen langjährige Partnerschaft aus
07/08/2023. Crailsheim. The well-known Swabian Maultaschen from BÜRGER will continue to be distributed by the NAGEL-GROUP and made available throughout Europe. The two family-owned companies have been working together for 35 years and have now extended their partnership once again. On the occasion of the contract signing, Martin Bihlmaier (Managing Director of BÜRGER), Carsten Taucke (CEO of NAGEL-GROUP) and the project managers of both companies met at the production site of the pasta manufacturer in Crailsheim.
"A business partnership that has lasted for decades is very special, and we are delighted with the trust that BÜRGER has placed in us," says Carsten Taucke. NAGEL-GROUP distributes the products of the manufacturer of Swabian specialties in Germany and Europe via the network site in Reichenbach and the frozen food site in Markgröningen. "What we really appreciate about BÜRGER is that we always deal with each other constructively – especially in the more difficult times, which were marked by crises for all of us. We are pleased that we can continue to support BÜRGER on its successful path."
The cooperation between the two companies will become even closer and thus more efficient in the future. In Crailsheim, BÜRGER is building a new refrigeration center and a new logistics center. The NAGEL-GROUP will rent a part of the logistics center and use it as a handling area.
For BÜRGER, the cooperation with the NAGEL-GROUP is a groundbreaking logistics project on a closely adjoining area. Shorter transport routes and less transshipment activity will increase product and service quality and save time and, in particular, CO².
Together, the two companies want to further optimize logistics handling and grow. The new building is scheduled for completion in the first quarter of 2024. Bürger is investing around 45 million euros in the state-of-the-art and energy-efficient facility, which will be connected to the existing plant.
About Bürger GmbH & Co. KG
For 85 years now, the company founded in 1934 by Richard Bürger has been producing regional and national pasta specialties of the highest quality. In 1960, Erwin Bihlmaier took over the business, and Martin Bihlmaier is now the third generation to run the company. Today, more than 1,000 employees produce around 365 tons of food per day at the two sites in Ditzingen and Crailsheim in Baden-Württemberg. 2.5 million Maultaschen alone leave the production facilities every day. Further information about Bürger GmbH & Co. KG can be found at www.buerger.de.
About Nagel-Group
Nagel-Group, which specialises in food logistics and operates throughout Europe, is headquartered in Versmold and employs over 11,000 people at more than 130 locations. Most recently, the company achieved a turnover of 2.2 billion euros. Every day, the group of companies moves foodstuffs in all consignment sizes and temperature classes. Whether frozen products, meat, dairy products, coffee or confectionery – day after day, Nagel-Group contributes on behalf of industry and trade to ensuring that consumers throughout Europe find the right goods at the right time and in the right quality at the point of sale. In this way, Nagel-Group makes a significant contribution to the success of its customers.
Press contact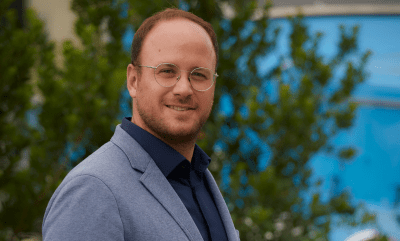 Julian Mester
press spokesperson