Award: Nagel-Group receives the Best Managed Companies Award
Düsseldorf. May 26, 2023. The Nagel-Group has been awarded the Best Managed Companies Award 2023. The award for excellently managed companies in the German SME sector was presented on May 25 in Düsseldorf by Deloitte Private, Credit Suisse and Frankfurter Allgemeine Zeitung in cooperation with the Federation of German Industries (BDI).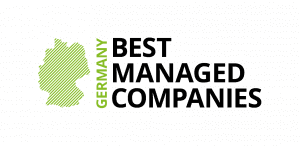 "We are very pleased to receive the award for Best Managed Companies. The Nagel-Group is undergoing a comprehensive transformation process with changes at almost every position and in every area of the company. This award is a nice confirmation that we are on the right track," says Carsten Taucke, CEO of the Nagel-Group. "We are currently completing the largest modernization program in the company's history; in addition to expanding our network of locations and our IT infrastructure, the focus here is clearly on digitalization, sustainability, innovation and our corporate culture."
At the award ceremony in Düsseldorf, Jens Kleiner, Executive Director Operations, accepted the award on behalf of the Nagel-Group. He gave an exemplary description of how modernization is having an impact in his area: "We have been using artificial intelligence for a few weeks to better utilize our cargo space. We have developed a machine learning model that allows us to do predictive forecasting – so with the help of artificial intelligence, we get predictions of how much merchandise to expect from which customer and with what volume." According to Kleiner, the prediction is already much more accurate and a great support for scheduling. "We always want to optimize our processes, we want to get better every day, this attitude is what makes us as Nagel-Group," says Jens Kleiner.
The Best Managed Companies Award is an international competition and seal of approval in over 45 countries. Since 2018, the award for best managed companies has also been presented in Germany to medium-sized companies or family businesses with a minimum annual turnover of 150 million euros.
"A Best Managed Company like the Nagel-Group is characterized by a forward-looking strategy, high productivity and a pronounced culture of innovation, as well as value-oriented corporate management," explains Dr. Christine Wolter, Partner and Head of Deloitte Private. Furthermore, she emphasizes, "It is precisely through the combination of employer attractiveness and economic success that the Best Managed Companies have an important lighthouse function in the regions."
In the competition, participating companies are evaluated and rated in four categories: strategy, productivity and innovation, culture and commitment, and governance and finance. The committee, consisting of a council of experts and a jury, is made up of experts from business, science and the media.